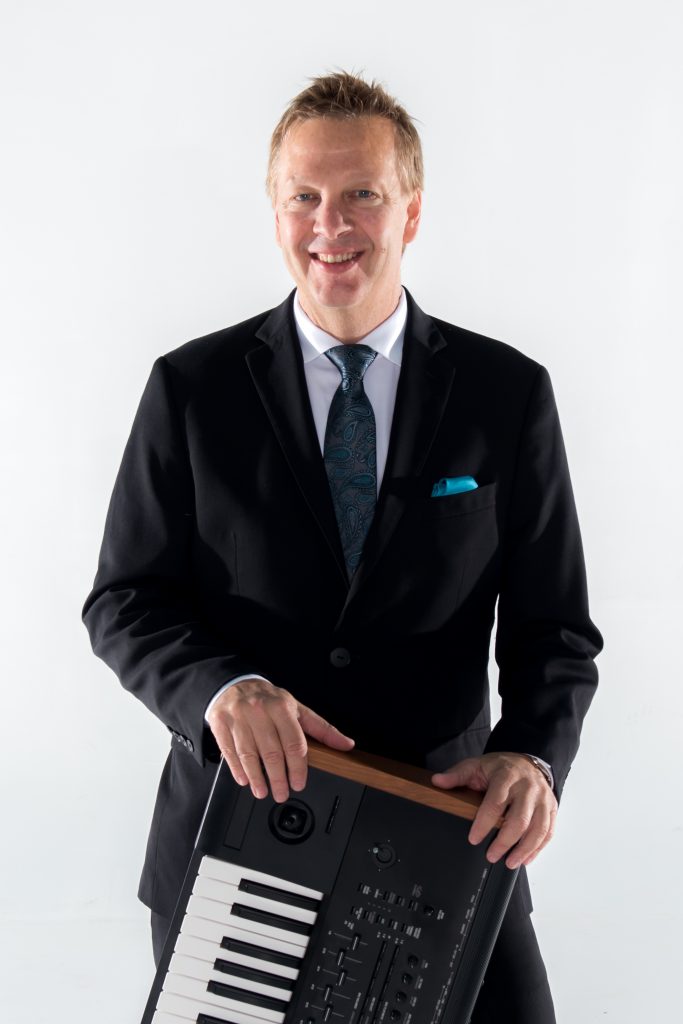 Bob Schilling
Bob comes from a musical family and began playing the piano at an early age. His grandmother was a pianist and his grandfather hosted a classical music radio show. "My father was a respected bandleader in the Washington D.C. area, and we would often have band rehearsals right in our living room!" We always had great musicians around the house (often living in our basement!), and they would show me a few things here and there". Bob began playing by ear, but later studied music in college and graduated from FAU in 1993 under the direction of Bill Prince, Tim Walters, and Dave Hammer.
Bob began playing in bands while still in high school and played with several successful bands while living in the Maryland/Virginia/D.C. area where he grew up. From cover bands to original projects, Country to Rock, and even a 13-piece Funk band! "I always loved and was interested in all kinds of music so nothing was off-limits to me". While in Washington Bob worked for "The Studio" and did some radio and TV jingles including one for "The Gap" and some spots for radio station WPGC.
Bob relocated to Florida and worked as a freelance musician which included stints with Rock & Roll Hall of Fame inductee Chuck Berry (Johnny B. Goode, Roll Over Beethoven), as well as the Drifters (Under The Boardwalk, This Magic Moment). In the late 80's Bob partnered with the amazing vocalist Ben DiGeorge to form the popular Florida group "Fifth Avenue" which was together for over 20 years! "I really learned how to run the business side of the band while working as a partner in Fifth Avenue". Ben had formed and toured with several very successful show bands in New York prior to moving to Florida, and he brought his vast experience to our show.
Bob formed The Headliners in 2009, and as they say, the rest is history! "This is a business where you can never rest on your laurels, it requires constant and consistent work to stay on top of your game not only as a musician but also as a group".
Bob found something extra special with The Headliners and the group is a true labor of love. "you can control many things in a band, but you can't control the chemistry between the members, and this is where I really did get lucky". "To have members who are not only highly talented, but are also best friends, really does make a huge difference in our live performances, and everyone can see it from the minute we take the stage". It is this, along with their mutual love for music and the enjoyment from seeing the interaction of friends and family in the crowd that keeps the band working hard.
Let's Make Your Event Amazing
Are you looking for a great live band that will keep your guests entertained and on the dance floor? Whether it's a gala, a fundraiser, a wedding, or a corporate event, The Headliners Band is the perfect band to fit all of your needs!
The group performs throughout our home base of Florida and has also performed throughout the US as well as Spain, Greece, Aruba, Mexico, the Bahamas, and more! The group performs in it signature fun, energetic, and entertaining style that is always a hit at weddings and corporate events. We can handle all of the emcee duties along with the flow of events.  We perform for distinctive events in Tampa, Orlando, Palm Beach, Miami and South Florida, Naples, Jacksonville, and all across Florida. Call The Headliners today for your Florida wedding band!